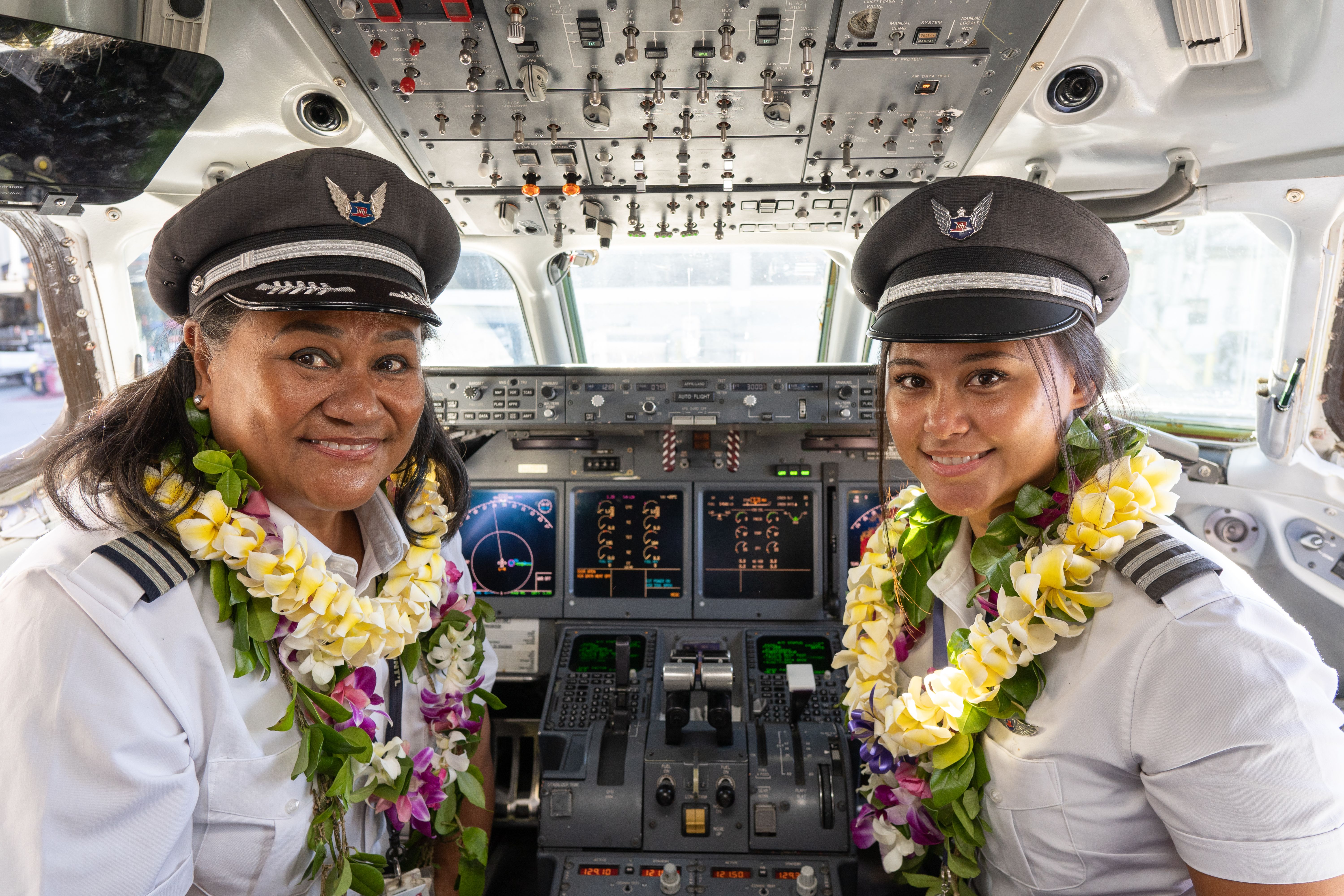 Hawaiian Airlines pilot duo, mother and daughter, take to the skies
Hawaiian Airlines

IATA/ICAO Code:

HA/HAL

Type of airline:

Full service carrier

Stroke(s):

Honolulu International Airport, Kahului Airport

Founding year:

1929

CHAIRMAN:

Peter Ingram

Country:

United States
Maternal advice is part of growing up, but it's a little different when Mom's in the left seat of a jetliner and you're in the right. That's what happened on a Hawaiian Airlines plane last Friday when a mother and daughter took the controls of a B717 for a day in the Pacific.
Captain Kamelia Zarka and her daughter, First Officer Maria Zarka, shared the flight deck of the Boeing B717 to operate a number of Neighbor Island flights. This was the first time in its 93-year history that a mother-daughter pair had flown for Hawaiian Airlines (Hawaiian). The pair, looking equally proud of each other and appropriately adorned with a lei, greeted passengers as they boarded, shared selfies and encouraged young girls to follow their dreams into the cockpit.
Two role models flying together
Captain Kamelia Zarka and First Officer Maria Zarka hang out in their Hawaiian Airlines B717. Photo: Bryan Shirota
Kamelia has been with Hawaiian for three decades, joining the airline in 1992 as a flight attendant. Born and raised in the Kingdom of Tonga, she was the first Tongan woman to drive an airliner. After joining Hawaiian, she set out to earn her pilot's wings and, after stints with regional airlines, returned to Hawaiian in 1999 as a flight engineer on a McDonnell Douglas DC-10. She later joined the Boeing B767 Transpacific Fleet as First Officer before becoming Captain of the Neighbor Island B717 Fleet.
Captain Kamelia Zarka and First Officer Maria Zarka made history on September 1 as the first mother-daughter pilot team to fly for Hawaiian Airlines. Photo: Bryan Shirota
Kamelia is a passionate advocate and role model for women in aviation, which has been shown to rub off on her two daughters, Maria and Kaimana. She said that flying for Hawaiian Airlines with Maria, side-by-side in the cockpit, was a dream come true.
"I always knew Maria would be an amazing pilot – she's always been brilliant and professional – but sitting next to her as she flew the plane with such skill and ease still blew me away."
Working hard earning licenses and building hours, Kamelia spent time teaching flight lessons and often took Maria with her on flights. "Those flights and the trips we took with Hawaiian Airlines for my non-revenue benefits seem to have sparked Maria's desire to fly. Then Kaimana, my youngest daughter, caught the virus after flying with her sister and later in high school, she too decided to become a pilot.
It's Captain Mom on the flight deck of the 717 now
It looks like Hawaiian Airlines First Officer Maria is keeping a close eye on Captain Mom, aka Kamelia Zarka. Photo: Bryan Shirota
Before joining Hawaiian in April as a 717 pilot, Maria flew Republic Airways in New Jersey for two years. Maria said that people used to tell her how great it was to fly with her mother and now she has experienced that too. "She is an amazing pilot and learning from her is learning from one of the best. Now I call her Captain Mom."
"I feel fortunate to have a mother who cares so much and has worked hard to pave the way for other women and myself to be the first Tongan woman to run a commercial airline. And now it's my turn. I look forward to continuing my mother's legacy as I make my mark as a Hawaiian Airlines pilot."
Kaimana follows the same path and studies aeronautics at Emery-Riddle University in Arizona. She has earned her personal and instrument licenses and is on track to join her mother and sister in the cockpit of Hawaiian. With her own flight crew of three, the Zarkas would be an ideal fit for the DC-10, the same aircraft that Kamelia began her piloting career with Hawaiian Airlines.
If you ever fly around the Hawaiian Islands, keep an eye out for these two inspirational pilots.