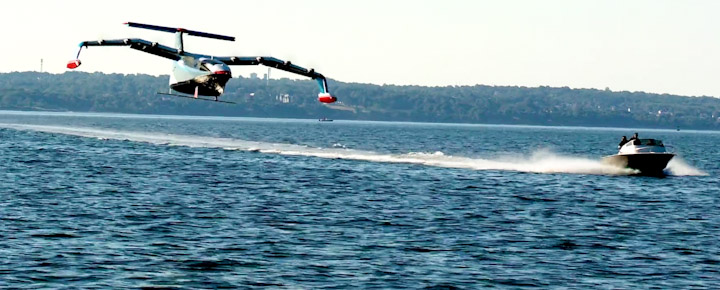 Hawaiian Seaglider plane flies for the first time
Mike Klinker, the company's CTO and co-founder, said, "For 60 years people have been trying to make wing-in-the-ground effect vehicles profitable, and in 15 months we've gone from a drawing on a napkin to the first successful flight."
That's how it works – flying with the REGENT Seaglider.
When the vehicle first leaves the dock, it functions much like a traditional boat. After leaving port and increasing its speed, it mounts on its hydrofoil and glides across the water. When it reaches open water, it lifts to within a wingspan of the water's surface, pulling in the hydrofoil and accelerating to its cruising speed. The vehicle is said to combine advanced digital flight software with simple boat controls.
REGENT said that "Seagliders will reduce the cost and time of regional travel by offering Los Angeles to San Francisco or Boston to New York in 2 hours 15 minutes for $100, or Miami to the Bahamas in 1 hour 20 minutes forecast for $63."
These all-electric "wing-in-ground effect" boats/planes will fly close to the ocean's surface at around 200 miles per hour. They have operating costs comparable to a boat and are built to specifications similar to airplanes and boats. They are initially said to have a range of up to 180 miles, which can expand to 500 miles with improved battery technology.
Hawaiian Airlines and Mokulele Airlines work together with these sea gliders.
REGENT has had interest not only from Hawaiian Airlines but also from other airlines, ferry companies and ocean carriers.
Back in May, Hawaiian pioneer Hawaiian Airlines announced it would invest in this next-generation, 100-person capacity all-electric seaplane, known as the Regent Monarch. The aircraft is scheduled for delivery from 2028.
Dedicated to port-to-port service in Hawaii, the fascinating hybrid of an airplane and a boat may be the closest thing to a ferry system in Hawaii's future.
Hawaiian became the company's first US development partner earlier this year. Mokulele's parent company, Southern Airways Express, became a REGENT Seaglider customer back in 2021. They agreed to purchase 15 12-passenger Viceroy's and 5 of the newest 100-seat Monarchs. In a heavily discounted deal, they paid maybe $250 million for an order said to be worth $600 million.
Announcing their REGENT partnership, Hawaii Chief Marketing and Communications Officer Avi Mannis said, "Innovative inter-island transportation has been at the core of our business since 1929, when we replaced steamboats with airplanes. We are excited to be an early investor in REGENT and to be involved in the development of their largest sea glider – a vehicle with great potential for Hawaii's most comfortable and environmentally responsible inter-island transportation."
BOH: We remain concerned about the safety of these for Hawaii's wildlife, including humpback whales. In the video, the vehicle appears to be flying slightly higher over the water than we expected.