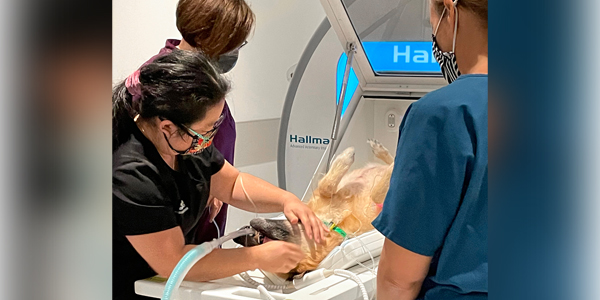 Improving patient care in Hawaii with MRI
Dogs and cats in the state of Aloha now have increased access to advanced care thanks to a newly installed MRI at a 24-hour emergency and specialty hospital on Oahu.
The Veterinary Emergency and Referral Center (VERC) in Hawaii has introduced a Hallmarq Veterinary Imaging MRI specifically designed for small animals. With a V-shaped patient bed and spinal coil, the device's design improves patient positioning to improve image quality and enable detection of more subtle changes in soft tissue structures.
The installation, which is the first MRI of its kind in Hawaii, increases access to advanced imaging within the state and supports the hospital's neurological service.
"MRI is the gold standard for imaging soft tissues like the brain and spinal cord," says Erika Sox, Associate Medical Director of VERC, DVM, DACVIM. "Previously, most patients with neurological disorders in Hawaii received a CT scan, which provides significantly poorer images of these areas of the body and often overlooks the presence of subtle lesions, making it difficult to accurately diagnose patients with brain and spinal cord abnormalities. The addition of MRI greatly improves our ability to diagnose and treat small animals with these conditions."
Established in 2011, VERC, which is part of the Ethos Veterinary Health network, serves patients on Oahu and throughout the Pacific Rim. It includes a team of Emergency Medical Practitioners, Specialist Physicians, Specialist Practice Specialists, Certified Veterinary Technicians, Specialist and Non-Specialist Veterinary Technicians, Veterinary Assistants, Customer Care Coordinators and more.
"Having the first and only MRI on the island is a huge game changer," says the hospital's chief neurologist, Baye Williamson, DVM, DACVIM. "It allows us to better serve the animal-loving community, not just on Oahu but throughout the Hawaiian Islands. Several customers have already traveled from other islands for an MRI."