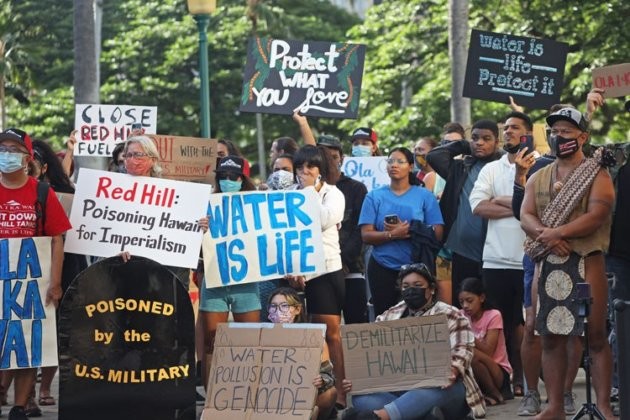 It's time to demilitarize the Asia-Pacific region
Photo by Jason Lees/FOR Ka WaiOla
That fall, organizers from the O'ahu water conservationists in Hawaii made the long journey to the White House to demand an immediate closure of Red Hill's fuel storage facility growing frustration with the Department of Defense's current plans to fully defuel the facility by July 2024.
In November 2021, thousands of gallons of kerosene stored at the facility began leaking into Oahu's largest water supply and contaminating Oahu's drinking water almost 100,000 inhabitants. A survey of residents whose water was contaminated conducted by the CDC found that 87% of respondents reported worsening health symptoms after contamination and that more than a third of respondents required medical attention.
Despite Secretary of Defense Lloyd Austin's commitment Many Hawaiians continue to view the US military with extreme suspicion — and with good reason. Organizers and community members in Hawaii have raised safety concerns about Red Hill for years; However, these concerns were routinely ignored until it was too late. A detection Conducted by Rear Admiral Christopher Cavanaugh, the report finds a damning array of failures that contributed to the disaster, including limited oversight of the facility, discrepancies in reporting, and a "lack of critical thinking, intellectual rigor and self-assessment by key leaders in crucial moments. "
The Red Hill disaster is just one of many instances in which the US military is causing extreme damage to both the environment and the people of Hawaii and throughout the Asia-Pacific region. This summer's RIMPAC games, the largest maritime commodity exercises in the world, is a prime example of this. Even though RIMPAC's spokesman assured local Hawaiians that the military would be "good stewards of this environment" and that active efforts would be made to protect training grounds, all of which would prove to be lip service in the end, as the use of live fire, missiles and sonar continued to have adverse effects on have the marine fauna.
Even more alarming are the increasing cases of sexual violence that have accompanied such a military presence. The Hawai'i State Commission on the Status of Women has found that "major events such as RIMPAC pose a significant risk of commercial sexual exploitation of women and girls in Hawaii," with "Hawaiian Natives, immigrants, and LGBTQ people" being particularly vulnerable to prostitution and sex trafficking."
While this trend is worrying, it is by no means unique. The Okinawa-based organization Okinawa Women Act Against Military Violence has reached similar conclusions regarding the US military's role in sexual exploitation. Recorded over 350 sex crimes in their report on US military crimes in Japan after World War II.
About 4,000 miles off the coast of Hawaii in another US-occupied territory, Guam, we can see similar trends of environmental degradation and disregard for Native American livelihoods by the US military. Despite ongoing efforts by indigenous activists on the island to demilitarize the island and seek alternative political statuses (full independence among them) the Department of Defense has made it clear that it will continue to use Guam for its own political agenda, regardless of the negative impact. The NDAA 2023 has earmarked around $1 billion for the integration of an air and missile defense infrastructure on the island. Additionally, Construction started last month for live-fire training sites and support facilities in close proximity to the North Guam Lens Aquifer, the island's main source of drinking water – a staggering sign of the damage that events at Red Hill may cause.
The construction project in Guam, which will uproot some 200 hectares of forest that is home to numerous endangered species, is ironically part of a Agreement between the US and Japanese governments to move 5,000 Marines from Okinawa to Guam in response to anti-militarist protests in Okinawa. While this is a win for Okinawa residents and organizers, the battle is definitely not over as the US military has made it clear that it will put its own interests ahead of the health and well-being of the local population, wherever it goes goes. Major General Dennis Larsen even states that Guam "is not Okinawa" and that "here we can do whatever we want and make huge investments without fear of being thrown out…" The United Nations got through the treatment of the Chamorro in Guam criticized the US, citing the lack of "free, prior and informed consent" to military expansion efforts.
The US military has ignored the voices of the people affected and the international community for long enough. It is time for progressives to raise our voices and call for demilitarization so the people of Hawaii, Guam, Okinawa and elsewhere can live free from the environmental and human destruction imposed by the US military.