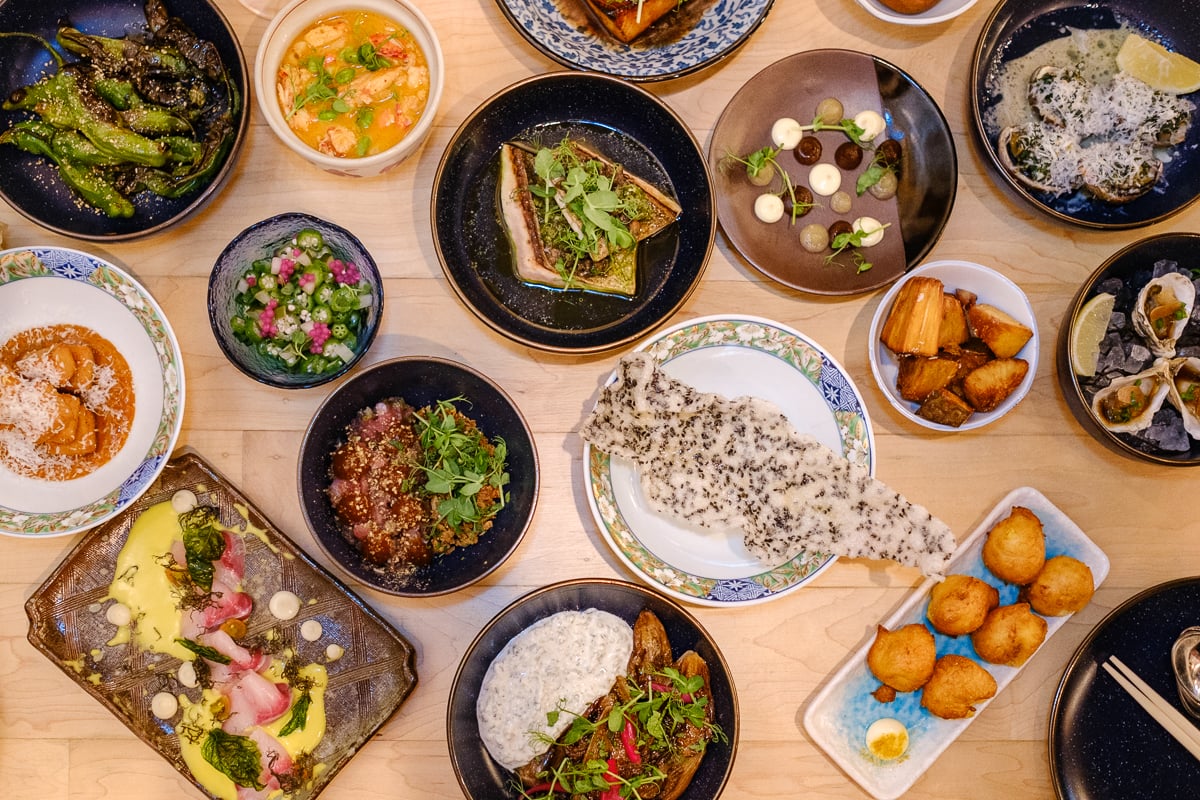 Nami Kaze's new izakaya-style dinner is one of the best in Honolulu
BAt brunch alone, I already considered Nami Kaze to be one of the best new restaurants in Honolulu in years. With a menu of honey walnut shrimp and waffles and so-called omelets, which are truly decadent chawanmushi topped with mentaiko or shrimp and chilli chips, chef and owner Jason Peel displays a playful originality. And now, at dinner, the creativity continues to bubble.
---
ALSO SEE: Nami Kaze Introduces New Seafood-focused Brunch at Pier 38
---
Dinner is served on small izakaya-style plates. There are some obvious crowd favorites, like the lobster chawanmushi for dinner ($17) and Kona abalone ($22) with Rockefeller-style oysters, smothered in butter and served with garlic cabbage and a sprinkling of Sweet Land Farm goat's cheese tomme are occupied. Put expensive items like lobster and abalone on top of anything, and people will go for it — though Peel shows a lot more care with these ingredients than many others. But it's his approach to often-overlooked products that really shines. Take the Cold Smoked Tomatoes ($13) with Mrs. Cheng's Custard Tofu and a touch of Ume Ponzu—ethereal, refreshing, and calming. Or the Corn Beignets ($9), airy puff brought to earth with a dredging Japanese curry salt and Kewpie mayonnaise.
Peel dedicates its menu to seafood and vegetables—focuses that are far too rare in Honolulu. Even rarer: two dishes of 'ulu – the tricky thing. A chef recently lamented that too many people mistreat 'ulu simply because they see it as a potato substitute and don't understand its starch content. Peel understands. For his 'ulu tots ($10), he lightens the heavy starch so they're more like deep-fried bites of 'ulu mousse and combines them with his grandfather's recipe for barbecue sauce. The 'Ulu Patatas Bravas ($9) treat is more conventionally potato-esque — chunks of it deep-fried — served with dots of Hawaiian chili-pepper gel, Kewpie, and teri-gel, the presentation a bit fussy, but on the other hand, me can't think of a better way to evenly distribute the sauces for each bite. Nami Kaze keeps turning my ideas of what's going to work upside down, and couldn't we all use a little refresher on ideas?
Like brunch, the dinner menu can feel overwhelming. It helps to just ignore the sushi side, which I find less strong. The wine list is a bit boring but the sake is not. There's sake on tap ($10), a bushido ginjo genshu that's straightforward and sturdy, making it an easy pairing for anything on the table (it was out on my second visit, which made dinner a little less fun) . The Fukuju Hyogo Junmai Ginjo ($20) is extremely pretty and delicate – nice to drink neat but can be drowned out by the flavors on the table.
---
SEE ALSO: Sake Islander's Omakase Sushi Restaurant opens in Chinatown this week
---
The dessert menu is the shortest section of the menu: currently Asato Family Sorbet and a green tea chiffon cake ($6) with lemon-macerated strawberries, light and simple. Here's hoping the dessert expands at some point — I've loved pastry chef Beverly Luk's sweets at her previous locations (most recently Hau Tree).
But talking about more is a bit embarrassing, like complaining about diamond shoes that are too tight, when there is already so much to explore and delight on the menu. Nami Kaze, as my colleague Mari Taketa puts it, "brightened my world."
1135 N Nimitz Highway, (808) 888-6264, namikaze.com, @namikaze.hi