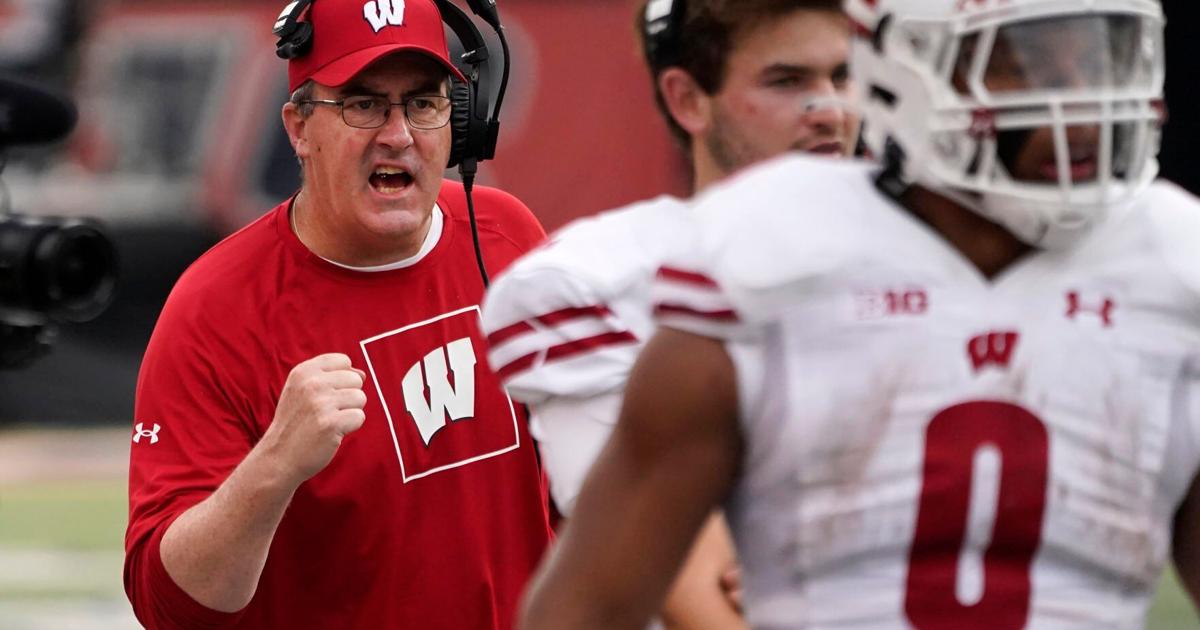 Wisconsin Football Adds 10th Commitment to Class of 2023 in Hawaii Athlete | University
Another Hawaiian native will be making his way to Madison to play for the Badgers football team.
Class of 2023 recruit Trech Kekahuna announced his commitment to the University of Wisconsin with a social media post on Sunday.
Kekahuna paid an official visit to UW this weekend. He attended a UW camp earlier this month and tweeted that he received an offer on June 6th. He also announced previous offers from Boise State, Hawaii and Nevada.
247Sports names Kekahuna as a three-star contender. He previously played for the Saint Louis School in Honolulu, Hawaii, a program that also developed current Badgers outside linebacker Nick Herbig and safety Kamo'i Latu.
Kekahuna – who is listed at 5-foot-11 and 180 pounds – told the State Journal earlier this month that he will be playing his senior season at Bishop Gorman High School in Las Vegas. UW wide receivers coach Alvis Whitted believes he could be used as a wide receiver, running back and on special teams in returning kickoffs and punts, according to the recruit. Kekahuna's Twitter bio describes himself as a wide receiver.
Whitted and outside linebackers coach Bobby April III were listed on 247Sports and Rivals as Kekahuna's primary recruiters.
Meet the 2023 Recruiting Class of Wisconsin Football
TYLER-JANSEY
Consensus three-star linebacker Tyler Jansey became the first member of the Badgers' 2023 draft class when he announced his signing on January 28, 2022.
The 6-foot-1, 225-pound inside linebacker is the 10th-best player in his class in Illinois, according to Rivals. According to MaxPreps, he had 36 tackles and 5½ sacks in a six-game season as a sophomore, followed by 88 tackles and 16 tackles for loss in 11 games as a junior. Jansey chose UW over offers from eastern Illinois, eastern Michigan, Toledo, Miami (Ohio) and others.
JAMES DURAND
I want to thank Basha Football and Basha High School. I want to thank Coach Kelly for everything. Lastly my family. I am very pleased to say that I have made a commitment to continue my education and football career at the University of Wisconsin! Joshua 1:9 Romans 11:36 #OnWisconsin pic.twitter.com/kob6QX1wnb

— James Durand (@JamesDurand17) May 6, 2022
James Durand became the first offensive lineman in the Class of 2023 when he signed on May 6, 2022.
The Chandler, Arizona product is a 6ft 6, 285lb tackle/guard that has had a number of offerings. Arizona, BYU, California, Colorado, Indiana, Iowa State, Oregon State and Utah were among his applicants. Durand attended UW in late March and received his offer that weekend.
Durand has quick feet and good balance that allow him to fend off defenders in pass blocks.
JUSTIN "JT" TAYLOR
Consensus three-star defender Justin Taylor became the first member of the secondary school to join the class when he made a verbal commitment on May 13, 2022.
Taylor is a 6-foot, 185-pound athlete who could play next-level cornerback or safety. He made bids with the State of Kansas, the Army, the Air Force, and others before joining the UW. The product of Nazareth Academy (La Grange Park, Illinois) is from Broadview, Illinois.
His ligament shows good speed and instinct when throwing the ball in the air.
JAQUEZ KEYES
The Badgers dove into talented Ohio State for talented running back Jaquez Keyes. Keys is a four-star contender according to Rivals, but a three-star player in 247Sports' rankings.
Keyes' relationship with UW developed rapidly. He attended UW on April 16 and tweeted that he received an offer the next day. Keys verbally committed to UW on May 13, 2022.
He's listed at 6-foot-1, 205 pounds and his twitter states he can run a 4.5-second 40-yard dash.
RODERICK "TREY" PIERCE III
UW's Illinois recruiting success continued with the signing of three-star defense attorney Trey Pierce. Pierce joined the class on May 19, 2022.
Pierce is listed at 6-foot-3 and 280 pounds and his recruiting heated up when he enlisted with UW. He had offers from the state of Iowa, Illinois, Minnesota, Purdue and others. His highlight tapes show good upper body strength and the ability to stay low and stay put.
NATE WHITE
Milwaukee native three-star backwater Nate White Rufus King became the sixth recruit in the class of 2023 when he announced his decision in late May.
The 6-foot, 175-pound runabout had offers from Iowa State, Minnesota, Purdue, Kansas and others before settling on UW. According to WisSports.net stats, White averaged 8.6 yards per carry and had 20 touchdowns as a junior.
JORDAN MAYER
UW added long and strong outside linebacker Jordan Mayer to the recruit class on June 12, 2022.
Mayer, a three-star prospect listed at 6ft 4 and 235 pounds, played defensive end in high school but will join the Badgers' linebacker room. The former Boston College committee chose between UW, Cincinnati, West Virginia and Virginia Tech. Mayer is from Jefferson Hills, Pennsylvania.
COLLIN DIXON
Three-star athlete Collin Dixon had chances to play wide receiver and safety in college but chose to join UW's wide receiver room.
The Tallmadge, Ohio product had received nearly 1,500 yards as a junior and had offers from Illinois, Indiana, Kentucky, Pittsburgh, Purdue and others. The 6-foot-1, 200-pound wide receiver signed on June 13, the day after his official visit to UW.
AJ TISDELL
UW defense coordinator Jim Leonhard and cornerbacks coach Hank Poteat showed up in Texas to secure a signing of up-and-coming cornerback prospect AJ Tisdell.
The College Station native is a three-star recruit according to Rivals and he had offers from Baylor, California, Texas Tech, Vanderbilt and others before settling on UW. Tisdell is listed at 5'11 and 175 pounds and shows fluidity in his hips and strong hands on the attack point.