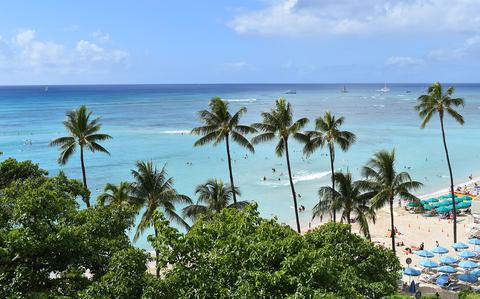 Oahu's beaches are legendary, but the island has so much more to offer
Oahu, while emblematic of all that Hawaii has to offer, is always packed with sunbathers, surfers, outrigger canoes and catamarans. Most of
Oahu
's luxury and historic hotels are located along its shoreline."/>
Hawaii had me at Aloha. More than anything else it was the glorious clarity and colors of the water, constantly changing to jewel tones of sapphire, emerald and aquamarine. Whether you're flying across the Pacific to Honolulu, flying a helicopter over stunning beaches, or driving the beach roads, Oahu, fringed by the clearest waters, is visually spectacular.
The trip was my first to Hawaii, but for my husband, Roy, it was a return to a place he called home when he was a young Marine stationed at Kaneohe Bay, and then again years later when he was returned to training with the Air National Guard. We'd always wanted to visit the islands together, so armed with frequent flyer miles we'd booked our flights and headed off in search of romantic paradise, Oahu.
If you plan to spend any time exploring Oahu at all, your best bet is to rent a car. We didn't use it for the first day or so as we wanted to fully experience the Moana Surfrider, the first of two hotels we would stay in and one of the most historic on the island, having first opened its doors in 1901. Upon check-in, we were adorned with flower leis, beautiful, intricately woven with fresh, fragrant orchids in deep amethyst and white. As it was placed gently around my neck, I laughed out loud as I remembered Will Rogers once saying, "Hawaii is the only place I know where you lay flowers while you live."
Known as the "First Lady of Waikiki," the Beaux-Arts-style Moana Surfrider has a colonial feel with its imposing columns, distinctive porte-cochere, and long porches. It is right on Waikiki Beach, probably the most famous beach in the world.
Most travelers choose to stay in one place during a getaway, but because travel is all about experiences and because Honolulu is practically littered with historic hotels, we decided to bother packing and unpacking to switch hotels and spend extra nights at the Royal Hawaiian, right next door to the Moana Surfrider and also on Waikiki Beach.
Built in 1927, the Royal Hawaiian has earned the nickname "Pink Palace of the Pacific". Among the gems behind the flamingo-pink exterior and Hispano-Moorish design are the Mai Tai Bar, where retailer Vic Bergeron created Waikiki's first Mai Tai in 1953, and the Royal Hawaiian Bakery, with homemade pastries including the signature banana bread and pink snowballs .
To anyone who doesn't live in Hawaii, it might seem like Hawaii and Waikiki are essentially synonymous, but you can totally put that notion out of your head because it's about as far from the truth as you can get.
While we briefly walked Waikiki's sparkling arches of amber sand, the iconic volcanic rock of Diamond Head looming in the distance, we didn't travel to Oahu just for the beaches. Waikiki, we discovered, is teeming with sunbathers, surfers, outrigger canoes, and catamarans, and it's certainly the place to see and be seen, but beyond its beaches, we found Oahu to be green, lush, authentically Hawaiian, and quite beautiful.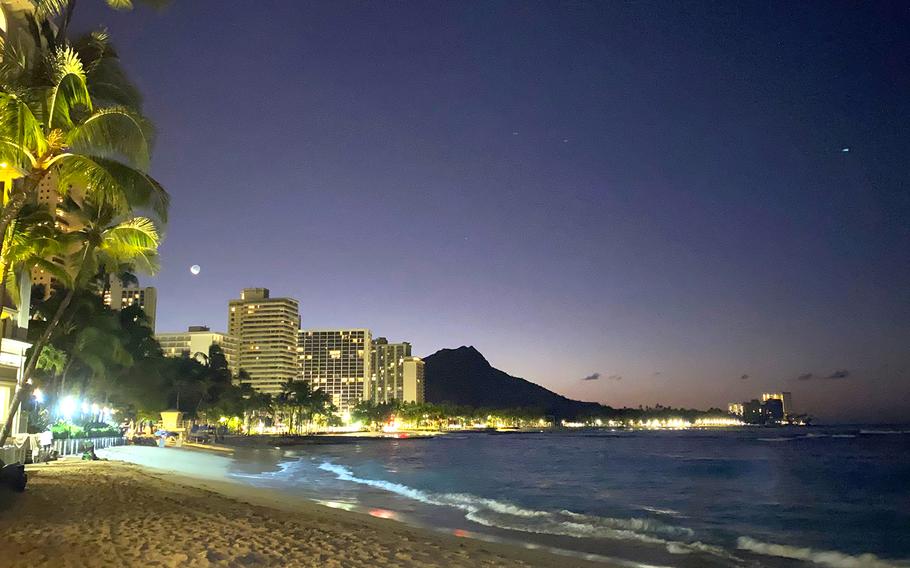 After maneuvering Honolulu's traffic, which can sometimes be as infamous as Atlanta's, we drove all over Oahu, marveling at the greenery and geographical diversity from beaches to mountains. One of our favorite sights was Sunset Beach on the north shore, where we were lucky enough to find a parking spot and watch winter's monstrous, if not translucently colorful waves, some of the stronger ones breaking at 30 or 40 feet.
I've read that Hawaii's surf starts in Japan, about 3,500 miles west, and after watching the waves, endless roll and roll and roll, I can understand why truckloads of tourists and locals line the roadside of the Kamehameha Highway for miles, just to witness the unmistakable power of the Pacific waves. It's a remarkable, exciting sight.
We drove through towns and communities with vowel-laden names, including Hau'ula, La'ie, Waialua, and Kahuku, and passed places like Waimea Valley, a 1,800-acre suite of rainforests, botanical gardens, and waterfalls that I compared to the garden Eden and the Diamond Head State Monument. I loved sharing with me the Shangri-La Museum of Islamic Arts, Culture and Design, the former home of American heiress and philanthropist Doris Duke, which is now an extremely fascinating center for learning about the global cultures of Islamic art and design The pieces she collects reflect her travels in North Africa, the Middle East and South Asia. We paid a brief but emotional visit to Marine Corps Base Hawaii, passing the barracks where Roy lived so long ago and his reference to landmark after landmark.
The big highlight of the trip was a helicopter flight with Paradise Helicopters at Turtle Bay Resort. Our tour was titled "Valleys and Waterfalls Explorer" which I think sounded like the most scenic. Just before takeoff, our pilot asked if we wanted the doors on or off, and the inner 12-year-old in me snapped at attention.
"The end!" I screamed dizzily.
As the helicopter climbed higher and higher, I considered taking a jacket that had been offered to me at check-in. Even in warm, humid Oahu, the air got colder and colder as we soared into the blue sky, but I forgot for a moment as we swooped over the USS Arizona at Pearl Harbor, the 1,000-foot Kaliuwa'a Falls , which has been closed to the public for years, the spectacular ridgelines of the Ko'olau Mountains, and finally across the North Shore, their waves churned with marshmallow-white foam, looking as dramatic from above as they do from sea level.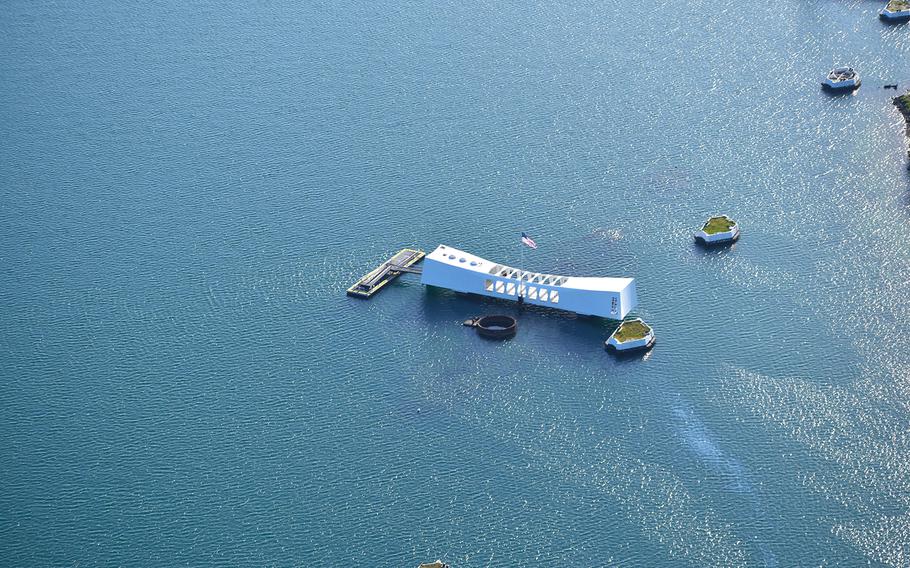 The must-dry experiences are Duke's Waikiki for fresh seafood, but most notably Kimo's Original Hula Pie, the iconic dessert mix of macadamia nut ice cream topped with chocolate fudge, whipped cream and more macadamia nuts. We also opted for afternoon tea, a local tradition, on the porch at Moana Surfrider (it made me feel like a princess) and ate the garlicky, flavorful shrimp scampi from Giovanni's shrimp truck on the Kamehameha Highway between Waimea Valley and Turtle Bay.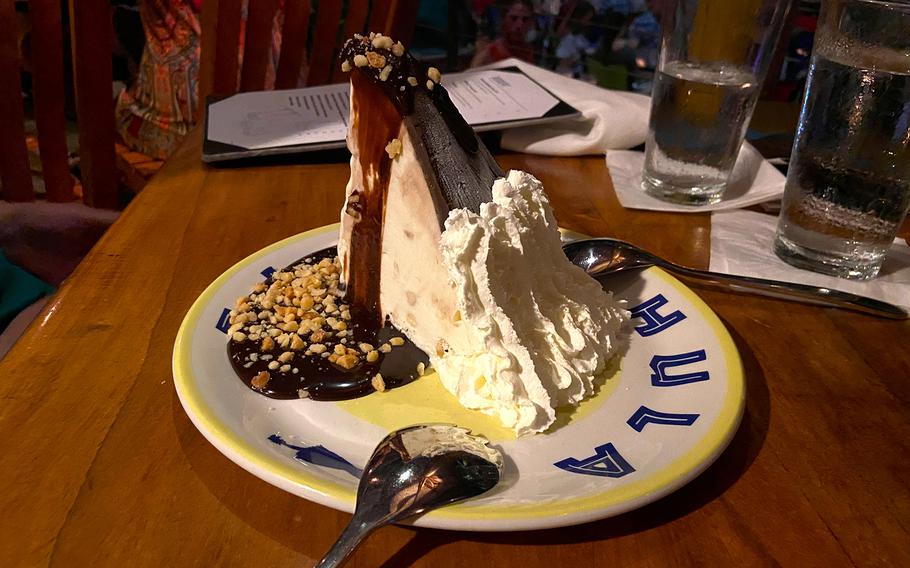 After 30 years of marriage, Roy and I may not be quite as in love as Burt Lancaster and Deborah Kerr kiss passionately at Oahu's Halona Beach Cove in the classic film From Here to Eternity, but our journey, with its golden sunsets, amazing water and the omnipresent, ambrosial scents of plumeria and orchids mixed with salty sea air contained all the right elements for an anniversary getaway.
when you go
For more information about Oahu, visit the Hawai'i Visitors and Convention Bureau at www.gohawaii.com/oahu. For the most up-to-date information on COVID restrictions, go to www.gohawaii.com/travel-requirements.